Effective Teaching

Nine Year Summary of Articles, 2000 to 2009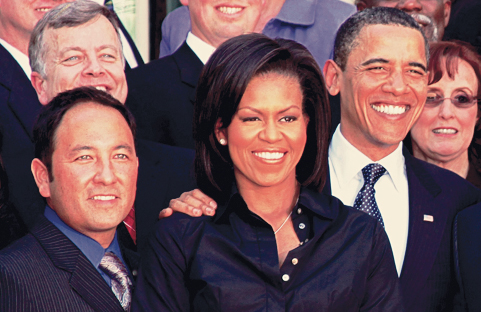 National Teacher of the Year
On April 26, 2009, President Obama hosted the four 2009 finalists for America's top national teaching honor, the National Teacher of the Year award.
Alex Kajitani, who teaches mathematics at Mission Middle School in the Escondido Union (Elementary) School District in San Diego County was one of the four finalists. California state superintendent of public instruction Jack O'Connell says that Alex is best known for his use of rap music to connect with his students, but his real talent lies in his ability to reach those students who have all but given up on school. Alex employs this unusual medium because of his deep concern about the achievement gap and its impact on his students, as well as on other students struggling in schools nation-wide.
We featured Alex in our December 2007 column. Click here to read his story and listen to his rap songs.
Alex Kajitani believes:
As a society, we cannot afford to produce 18-year-olds who have only a sixth grade education. We cannot allow an achievement gap that preys upon our ethnic minorities, especially our Latino and African American students, to persist.
Teaching is not just what we do, it is what we are. We are a group of dedicated, passionate professionals who enter our classrooms each morning not only to teach our students about the world as it is, but for the world as it can be. We live on a planet shaped by war, hunger, disease, and the destruction of our environment. Yet, we also live in a world in which we, as educators, can invoke in our students the determination and knowledge to create peace, equity, and compassion. As educators, we are not accomplishing this alone in our classrooms, standing in front of students and desks. By being teachers and embodying the commitment that is inherent to living and working as teachers, we are inspiring, creating, and invoking in our students the pride and confidence to make this world a better place. Above all, we are doing it together.
The other finalists for the prestigious 2009 National Teacher of the Year award were Susan Elliott, an English and Social Studies teacher at Highlands Ranch High School in Highland Ranch, Colorado; Anthony Mullen, a high school special education teacher at ARCH School in Greenwich, Connecticut and who was chosen National Teacher of the Year; and Cynthia Cole Rigsbee, a sixth through eighth grade reading teacher at Gravelly Hill Middle School in Efland, North Carolina.
America's Top Teachers
Alex is featured in the opening chapter of a book that highlights 18 former National Teacher of the Year Award winners and finalists.
If you would like to be an amazing educator, pick up this book! It features teachers who share their innovative methods in the hope that children everywhere will benefit.
This is a book you need to read if you want to be—not just a better teacher—but one of the best teachers. Here's why:
Ineffective teachers are all alike (which is why they are ineffective), whereas effective teachers are unique.
Effective teachers do not limit themselves to doing the same things, thinking the same ways, or behaving just like everyone else.
Towne interviews 18 of the best teachers in the United States in this book. Not a single one is like any of the others, yet each is very successful with their students. There is Alex Kajitani, whose class is composed of high-risk students, yet he has no discipline issues because of a nifty "classroom procedures" rap that he wrote and performed; a teacher who started a coaching cadre; a teacher who makes his classroom so inviting for students that they rush into class; and a teacher who applies for grants to fund his creative teaching ideas.
Successful teachers "steal" from other successful teachers. They always have their ears tuned and eyes wide open for good ideas that they can adopt and adapt for the unique needs of their own classrooms. Read this book, steal some ideas, and you'll be on your way to becoming a highly effective teacher yourself!
Google.com